These bracelets and keychains are now for sale!!!
All profits raised will be split between Christian and Cici to help with medical expenses not covered by insurance!


They say:

LOVE

HOPE

BELIEVE

DREAM
"The infinite LOVE we have for our children, the HOPE for recovery, the BELIEF that the next day will bring new promise, and the DREAM that one day our babies will walk, talk, sing, dance, and jump into our arms again!"
Shauna, Christian's mommy


You can purchase a bracelet in red, pink, or blue in support of Christian and Cici for only $5 with free shipping!
If you're not a bracelet type of person, there are keychains to show your support, as well.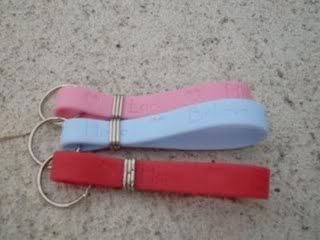 I think you and I both will get a warm, fuzzy feeling
knowing that you're helping two little fighters.
And, every time you look at it, it will hopefully remind you
not to take anything for granted
and how incredibly beautiful life is - even if it's not perfect.